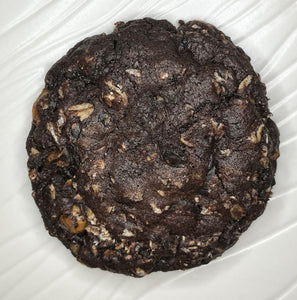 In honor of Paizo's Dark Archive book, we have created our darkest chocolate cookie ever, Dark Bliss.  It's a deep chocolate cookie with a hint of espresso to enhance the chocolate flavor and it's loaded with caramel bits and espresso chips.  The coffee taste is subtle and mostly serves to enhance the other flavors.  It's chewy and rich and sure to satisfy the chocolate lover in your life.
As Blissful as they say.
These cookies are fantastic. The espresso flavor is light and serves to highlight the dark chocolate, giving the cookie a satisfying chocolate taste that isn't overpoweringly sweet. Very delicious.