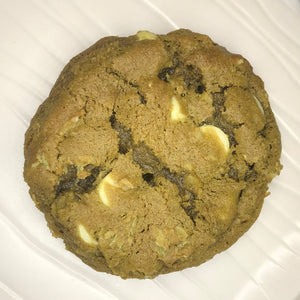 Developed in honor of Korokai, Paizo's iconic tengu oracle, our new Green Tea Cookie is a port of calm in an ongoing storm.  With the herbal flavors of the Matcha and the balancing creamy contrast of the white chocolate, tea lovers will rejoice in this offering.  Try some today and find out if this cookie provides the energizing calm that you are looking for right now,
Amazing cookies, wish I had bought more than a dozen!!
I got a variety of cookies from Critical Hit and they were all delicious but these were my favorite. I got them for my group and our campaign weekend and I should have bought more! Thank you so much :)
Lovely product!
These cookies were great, wonderful texture, even better flavor. Would (and will, I promise) order again!
The best surprise!
I didn't know what to think when i ordered these because green tea? Cookies? Yet when i smelled them and was like wow and tasted them and was like WOW I wish i ordered a dozen instead of the half lol. Gotta be in the top 3 for me from you!