Cookie of the Month Club
For November, our Cookie of the Month is our Dark Bliss cookie. It's a dark chocolate cookie with a touch of espresso loaded with caramel bits and espresso chips. Sign up today and you could be enjoying it this month.  As always, you are free to substitute any cookie you wish if this one doesn't strike your fancy.  And remember, members save 20% on their monthly orders!
Click for more info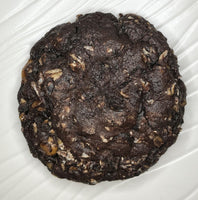 Featured collection: Fruit Lovers Collection
All of our cookies are baked to order as they are received.  Because of this, they are sold by the dozen and half dozen.  There is a minimum order of 1 dozen.  They are then carefully packaged to ensure freshness and sent directly to you.  Try a new favorite today!
Testimonials
Playing the longest sessions in the industry, we're always looking for different ways to sustain us at the table.  Critical Hit Cookies delivers delicious gaming fuel that also has enough substance to carry any party through the deepest dungeons!

Adam Smith, Project Admin., Order of the Amber Die
I am honored to have been part of the taste tester team for Critical Hit Cookies.  The cookies are delicious!  The owner is creative and dedicated to her craft.  Critical Hit Cookies has a great selection and variety to rescue any gamer from hunger. 

Leah Tapper
Not only is Critical Hit Cookies delicious, whether the standard chocolate chip or something complex like white chocolate, caramel blondie, but this is a brand that celebrates the love of gaming through teamwork, diversity, and community support.  The owner, Karee, is an amazing person who has given of her time and her hobby for others and I'm so thrilled to see her tasty baked goods available for the wider gaming community.

Robert J. Pontious, Web Architect, GAYMER, Order of the Amber Die member, Know Direction author