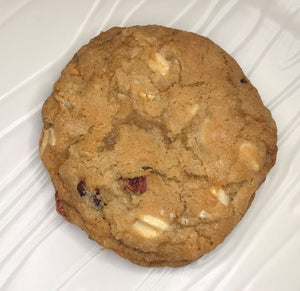 Inspired by Russul, the mushroom leshy familiar of Ilana on Paizo's Band of Bravos, Russul's Cranberry White Cookies are a classic pairing.  We took our brown butter rich dough and combined it with the tart taste of the cranberries and the sweet, creamy taste of the white chocolate.  The resulting cookie is crisp with a chewy center and a contrasting blend of flavors which will keep you coming back for more!
Awesome and Plump (the 1st time)
Great the 1st time. 2nd order they were flatter and not quite as delicious. Overall great cookies, although some are a bit over the top rich (sugary).
A hit with the party
I ordered a dozen each of the snickerdoodles, Ilana's lemon cookies, and of Russul's cranberry white chocolate cookies for my Pathfinder campaign. While everyone loved the cookies, these were the standout favorite among my players. They were still hunting through the box for more even after it was time to clean up for the night. 💛
A Nat 20
I am glad I only ordered 6 of each kind of cookie. They barely lasted, and I live alone! Simply amazing. Texture, taste. Delicious. I will reorder!
Absolutely delicious, moist, sweet and extremely satisfying.