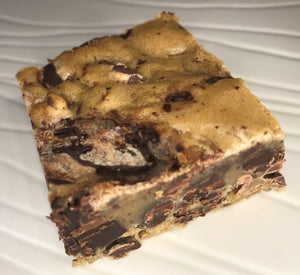 Triple chocolate blondies are perfect for blondie lovers who are secretly chocoholics!  Our basic goal in this was to see how much chocolate we could cram into a blondie and we were very successful!  We've taken our base blondie with its caramel tones from the brown sugar and browned butter and added a ton of milk chocolate, 60% cocoa chocolate and 92% cocoa chocolate to it.  It's a rich, decadent blondie that will satisfy even the most die hard chocolate lover. Try some today!
Triple Chocolate Life Savers!!
These are amazing, especially for stress eating during a tense gaming session. Bought these to compliment the Threefold Conspiracy and some of the Fly Free or Pie cookies. One chocolate for each conspiracy :)
There might be extra luck baked into each batch, great rolls after every one eaten. I'll have to order more to test this theory, and get more awesome cookies. Fast shipping in beautiful packaging, excellent communication, 5 stars all the way around.
Mighty Tasty, gone too soon...
This was a mighty tasty cookie, and the memory of it still lingers several weeks after the experience of eating them.
Cookies arrived in a timely and vaccuum-sealed fashion, and keeping them in the refrigerator extended their shelf-life for a week as they were cautiously rationed out.
If you have the money, get these over store-bought, you won't regret it.
Triple Chocolate Blondies
Delicious!
Perfect amount of chocolate! Great tasting cookies!!!
Triple Chocolate Blondies