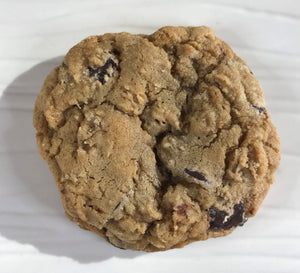 With caramel base notes from the brown sugar and browned butter and a ton of rich dark chocolate, these Chocolate Chip Cookies are a classic for a reason.  Everybody loves chocolate chip cookies ... but there is a wide range in quality.  Our cookies have been called the best chocolate chip cookies people have ever had.  Try today and see for yourself!
Delicious
We'll be back for more soon! Can't wait to try more cookies!
Exceptional cookies.
I bought 2 dozen to help my team get through Gen Con booth set up. Utterly delicious and well received by all. I am already planning to buy more for our next convention!
They all raved.
Since the cookies were gifts, we did not get to taste them ourselves, but everyone who received them said they were very, very good!
Delicious Pricey Cookies
Critical Hits has, without a doubt, some of the best delivery cookies I have ever had. However, due to their high price point, I am unsure if I will be ordering from them again. I understand where all the money goes. The quality is excellent! The packaging was great! Each of the cookies are individually wrapped! But I can't justify spending that much money on cookies on a regular basis.
Good bakes, want more
They were still very soft and lovely when they arrived. Will be ordering more in the very near future.