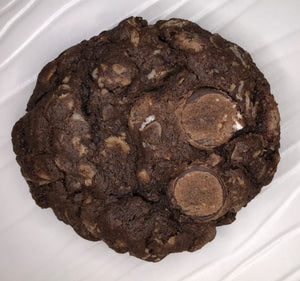 For our Mocha Chocolate Chip Cookies, we have taken our rich chocolate cookies dough and combined it with real espresso and even more dark chocolate to create a perfect afternoon pick me up.  It has the same coffee flavor as some of our espresso cookies but these flavors are more muted by all of the chocolate.  These definitely are more of a chocolate cookie then a coffee one.  See if they are just what you are looking for!
Very good cookies
They are individually packaged and not one was broken in the box. I personally do not like chocolate chip cookies that flatten out when baked and these pass that test easily. The cookies are normal sized, but thick enough to know you are biting into something; to feel the crisp outside give into a softer middle mixed with chocolate chips.
But, how do they taste? They are described as more of a chocolate, than a coffee cookie and that holds true. Rich chocolate cookie, dark chocolate chips and a subtle background of coffee is my experience. They are quite good.
I would confidently serve these cookies to others. Also, at $15/doz, they are a steal. If you need a cookie fix there are 51 different recipes to choose from and I think you can find something that will challenge you to only eat two.
Mocha chocolate flavor is awesome!
A well balanced cross between the coffee and chocolate flavors, able to taste both without one overpowering the other. Really tasty!
Quite the Hit!
I bought an assortment for my staff this past holiday season. Delicious and very chocolatey!
Mo coffee!
Believe it or not the coffee acts as a compliment to the chocolate here creating a rich deep chocolate taste! Very good and with satisfy your chocolate needs without a problem!
Wonderful Craftsmanship!
These were some amazing cookies!!! I may have kept all of these to myself over the holidays! My only complaint was there were occasional salter sections as if it didn't fully mix in, but it was only some of them though! This also didn't stop me from enjoying each and every one of them.
Thank you for making these, they were fantastic!