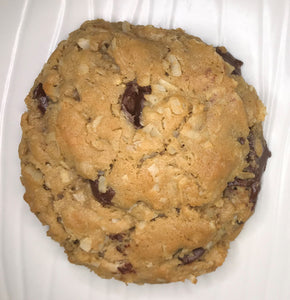 For our Coconut Chocolate Chip Cookies, we have taken our base cookie recipe with its caramel tones from the browned butter and brown sugar and added tropical coconut and rich chocolate chips.  As one taster said, they taste like the most perfect Mounds bar cookie which was exactly what we were aiming for.  Get your own taste of the tropics when you try this new offering!
It won't get you fired!
I made a mistake at work, but on the same day I happened to pass around a bunch of these choc coconut cookies, and I still have my job! I'm going to make sure HR has a bunch of these!
So Good!
I love these cookies! The coconut isnt ober powering and melds well with the chocolate and the cookie dough itself is moist and just tastes wonderful. This is the cookie to try if you are a first timer or just because they are that darn good!
Tastes like a cookie covered Mounds👍
BEST COOKIE YET
I don't know how you do it but this is my absolute favorite! Just the right amount of coconut...... Thank you again for another discovery!