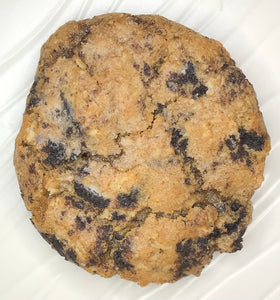 We took our base cookie with its rich notes of caramel from the browned butter and brown sugar and added huge amounts of crushed Double Stuff Oreos.  It tastes just like the ice cream in a cookie form or as we like to think of it, we made the Oreo better.  You can taste both the sweet cream and the dark rich cookie pieces.  It's a taste that you need to experience for yourself.  Try some today and see if it's your new favorite!
Loves These Cookies
Advertised to taste like cookies and cream ice cream, and these cookies completely deliver on that.
Best Cookies!
Perfect blend of regular cookies with a generous amount of oreos throughout.
Such a good balance of flavors
It feels like you're eating a normal cookie with the inside of an oreo. The plain cookie part is delicate and rich, then the oreo chocolate and cream just comes punching through.
A personal favorite
Really nice flavor and texture
The perfect balance
These cookies are so good! The perfect balance of sweetness! Best cookies n cream cookie i ever had!